Hello everybody! Sorry about the, uh, total lack of communication on my part here. I can't even claim that residency has sucked away all my free time..I mean, it's sucked away the vast majority of my free time, but I've just been a smidge lazy lately on my down time.
So...where were we? Ah yes! I had moved to STL for residency, my computer croaked, and I was in the midst of a minor myocardial infarction myself. An incredible person saved my computer for $80, and I lost all my iTunes but that was a totally acceptable alternative to losing EVERYTHING, because then someone might have had to die.
I started residency, and am currently on benign surgery. I get in around 5:30 and usually leave around 6:30. It's really not bad right now, with the exception of weekend call which I basically have every weekend this block - either 24 hours on Saturday or Friday night/Sunday day. Currently, though, I'm on vacation. Yes. That's correct. I worked for 3 weeks and then I was awarded one of the precious THREE vacation weeks I get all year. It's ok though, to be honest I could use a breather right now, and I'm happy that it's warm enough that I can actually do enjoyable things with my time off...like visit a certain very charming aerospace engineer (VCAE) I met at a wedding a few weeks ago. (Ok...if you really want all the painful details I met him when I interviewed at a program in California back in November, and we just happened to see each other again at this wedding.)
I like surgery. I like this rotation. I get to operate all day and then just come home. Our patients are rarely seriously ill and have few post-operative complications. The only bad part about being the benign intern is that we have to do circumcisions. Which I hate hate HATE doing. I'm not passing opinion on the circs themselves, but I think it's dumb that ob/gyns got stuck doing them. We practice medicine and operate on the reproductive tracts of adult women. How the hell did I get stuck slicing the foreskin of newborn baby boy penii?
First, I have to go consent the mother. I always take great pains to explain that this is an ELECTIVE procedure, meaning NOT MEDICALLY NECESSARY, and we are only doing it ELECTIVELY. I also explain the usual risks of infection, bleeding, blah blah complication-cakes, but the most important risk is the risk that what looks like a good circumcision to me may not look like a good circumcision to them. Though, for most of the circs I've done, I think we can all agree that I haven't produced some good-looking penii. NOTE: This is a cosmetic issue only. I know what I'm doing enough to take the foreskin off in a clean and safe manner with no harm to the head of the penis. These babies will urinate and have babies of their own in the future, but they won't have the most attractive penis in the world. Sometimes I'm just a little uneven in the actual amount of foreskin I remove from the front and back. There's a lot of that stuff to go around, and it's awfully wrinkly and bunchy.
The best part about consenting patients (or in this case their moms) is that occasionally one will say no and just flat-out refuse the procedure. In this case, where it's an elective procedure that I hate doing, I am completely okay with this. In fact, I've considered carrying around the actual restraint gear we STRAP the baby to.
I think being strapped down is the most upsetting part for the babies.
As far as actual procedural devices, I'm a
Gomco
girl myself.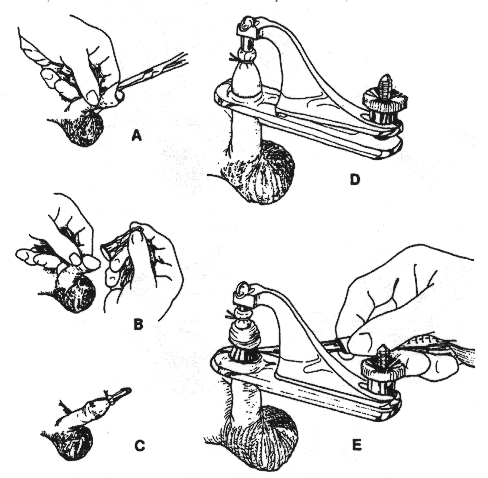 It takes a little longer and requires some more coordination than the
Mogen
, but I like that the little bell protectively sits over the head of the penis, thus ensuring that no goofage and injury to the penis head will occur. I offered to bring both devices to VCAE and give him a demonstration but he politely demurred.