I talk about my dog all the time, and sometimes I've mentioned the more traumatic aspects of
his past
, but today I would like to share the story of How Reflux and I First Met, or How I Became Immune to the Odor of Bacterial Vaginosis. (You're welcome.)
When I found out I'd be spending this year in Iowa I envisioned this Iowan lifestyle of Spartan self-disciple where I would rise with the sun, go work out at the gym before work, spend my day earnestly researching my heart out then come home and go running in the evenings and maybe train for the '06 Chicago Marathon. (Ok those of you that know me can all STOP LAUGHING NOW. Because I
was
serious about it at first. For like 2 seconds. But still. It's the thought that counts.)
But in all the dreams of those long-distance runs through the beautiful Iowan countryside, there was something unusual: I couldn't get the image of a big gorgeous dog at my side out of my head. So I got the idea that I really, really wanted a dog, and I would adopt one when I got to Iowa. I wanted a nice big dog that I could exercise with, and of course a big dog is always good for protection, and it would be my best friend and I would love her forever.
I envisioned something like this:
Or this: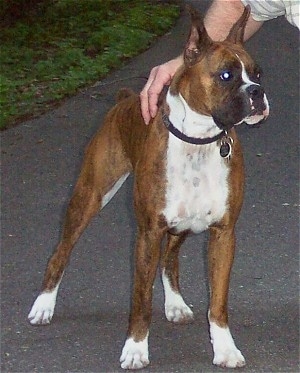 And....instead, somehow, I ended up with this:
And Ok, I admit, I did purposely pick out a photo of Reflux that made him look like a total weenie, but that's pretty much what he looks like all the time.
To be continued...